Highly trained in conservative and surgical treatments for foot and ankle conditions, Dr. Angela Molnar DPM serves as the podiatrist for the patients of Carolina Musculoskeletal Institute in Aiken, South Carolina.
Dr. Molnar takes an understanding and therapeutic approach to assessing her patients' needs and courses of action for the most effective foot and ankle solutions. With accreditations from The Ohio College of Podiatric Medicine and Virginia's James A. Quillen residency program, Dr. Molnar is a leading expert in the intricacies of foot and ankle procedures and continues to pursue education in the most advanced methods of podiatric surgery and healing.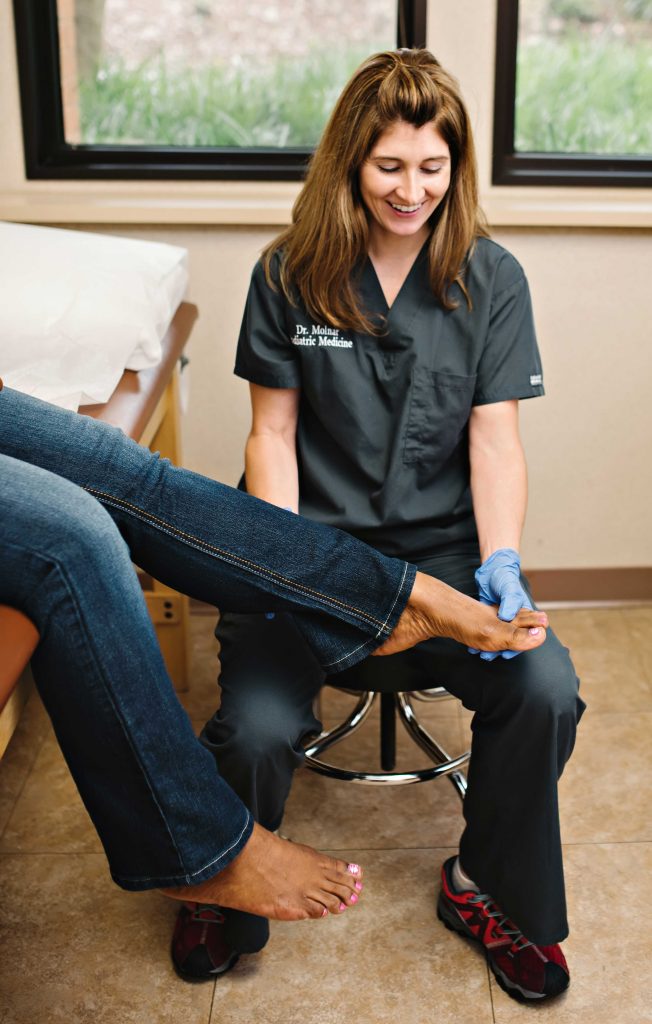 Below, Dr. Angela Molnar gives insight into the 5 common question patients inquire before foot surgery.
I'm considering treatment for the severe arthritis in my feet. Should I consult an orthopedist or a podiatrist?
While orthopedists and podiatrists have generally the same experience and education, podiatrists are more specifically trained in foot and ankle procedures. Orthopedists can care for bones, joints and tissues of all types (hips, knees, shoulders, etc.), whereas podiatrists only specialize in aspects of the foot and ankle — including dermatology and biomechanics. We not only provide services and treatments for arthritis, custom orthotics, fractures, heel pain, bunions and tumors or cysts, we also take care of toe fungus, skin infections and other topical ailments. When it comes to procedures specific to the foot and ankle, especially for issues as painful as arthritis, a seasoned podiatrist may be your best option.
How do I know when surgery is necessary?
As with all persistent pain, it's important to consult a specialist as soon as possible. After assessing your condition, your podiatrist will recommend the best procedure for you. At CMI, we employ the most advanced methods of diagnostics to determine the safest and most successful solution for each patient. We provide same-day x-rays and ultrasounds, as well as a non-invasive test called PAD-net to diagnose vascular disease. For patients with diabetes, we offer epidermal nerve fiber density tests to identify neuropathy in the feet. It's extremely important to us that our patients put their best foot forward on their path to healing, and it's our aim to choose the most effective solutions to meet his or her needs.
How can I best prepare for my foot surgery?
After your podiatrist chooses the correct course of action for your foot or ankle condition, ask his or her recommendations for best practices before your specific procedure. Your doctor will assess your level of health, your current medications and your daily routine and may advise you to change aspects of any of these in preparation for your procedure. Pre-surgery care is sometimes overlooked by the patient; they're not quite ready to get off their feet and give up some of their favorite hobbies that require them to be on-the-go. However, rest and careful adherence to your podiatrist's advice can have a significant, positive impact on your healing process post-procedure. Whether it's bunion removal or a removal of a tumor, it's extremely important to follow closely your specialist's guidance on procedural preparations.
What's the recovery process like post-procedure?
The recovery process for foot or ankle surgery depends entirely on the type of procedure you undergo and your current lifestyle. For outpatient procedures like toe fungus removal, the recovery time is relatively quick. For fracture repair and more invasive surgeries, even healthy patients will need several weeks of rest before fully recovering. Though rest is difficult for many patients, it's necessary for ultimate pain relief and proper foot and ankle healing. The last thing you want is to have to go through the procedure all over again! Rest is prescribed to make sure you get back on your feet — and stay there.
When can I get back on the golf course?
All recovery processes require ample rest to ensure proper healing. Depending on the severity of your surgery, you may need to refrain from foot and ankle usage for a prolonged period of time, as recommended by your doctor. One of my highest priorities in my practice is ensuring my patients receive the care they need so they can quickly and safely return to their favorite hobbies. Whether it's playing with your grandchildren, gardening, playing a tennis match or spending your afternoons at the driving range, your life deserves to be as full, as fun and as painless as possible. I consider it a privilege that I get to help make that happen.
CMI has been changing lives for the better in Aiken County since 1979. The Institute is a multi-specialty medical practice specializing in complete musculoskeletal care right here in your backyard. If you or a loved one are experiencing foot or ankle discomfort at any time, contact the experts at CMI right away. To schedule a consultation with CMI's esteemed podiatrist, Dr. Angela Molnar, contact Carolina Musculoskeletal Institute at 803-644-4264.